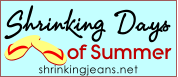 Umm, wow, it's been a while since I posted weigh-in deets. I've kept it updated in my sidebar but haven't actually blogged about it.
I'll be perfectly honest. I haven't been as successful with this challenge as I had hoped but I also know that I really haven't given it a whole lot of effort. And I know that in order for ME to be successful I need to do the necessary stuff (the stuff that works for me/keeps me on track) - like drink all my water, write down my food, stay within my calories, etc.
This week I'm
down 1.0 pound
. I'm not sure how with the daily cake servings I've had but I am down and I'm very happy about that. Knowing my body those pesky carbs will grab me on the scale next week.
I've also decided to change my weigh-in days to Tuesday morning so that I'll have time to write my post and schedule it for Wednesdays. I'm really hoping that will work better for me and I will actually do this again weekly (which also keeps me more accountable!). This weigh-in actually took place on Tuesday this week so it's nice to go to bed on Tuesday knowing that this is all taken care of.
Hoping all of my
fellow Sisters
did well this week! They are an amazing group and lots of support. Love them!