We closed on the new house on Monday and the old house (or at least the contents of the old house) are en route to the new place for arrival on Saturday. I can't believe it's already time to move and start the next chapter of our lives. I will miss being close to family but I also know that 4 hours is NOTHING compared to half a country away and for that I am very grateful.
We still need to sell our house in Pennsylvania. We've had a half dozen or so people look at it but the biggest factor in no one wanting to buy it is too much yard upkeep. And, well, there is a lot to upkeep in our yard so I totally get it. I just wish someone with a green thumb would fall in love with the place because THEN I think we could sell it. Keep praying. We don't want to be stuck with it for too long.
School registration is taken care of and both kids are super excited about the pools (yes more than one) in our community. I can't wait to get their rooms decorated and post pictures. They are going to be so flippin cute. But for now I'll leave you with a picture of our new house from the outside. Inside pictures to be shared later. I know. I'm such a tease.
Have a great weekend!
Lemon-Glazed Chicken
Serves 4
1/2 cup brown rice bread crumbs
2 garlic cloves, minced
1/4 tsp salt
1/4 tsp pepper
1 lb boneless skinless chicken breasts
1/4 cup lemon juice
1/4 cup honey
1.5 tbsp extra virgin olive oil
In a shallow dish combine the bread crumbs, garlic, salt and pepper and blend together. Dredge both sides of the chicken in the crumb mixture.
In a small bowl combine the lemon juice and honey. Set aside.
In a large non-stick pan heat the olive oil over medium heat. Add the chicken, cover and saute until browned on both sides and cooked through, about 10-12 minutes. Remove the chicken from the pan.
Add the lemon and honey glaze to the pan. Cook for 1-2 minutes until the glaze becomes syrupy. Return cooked chicken to pan, flipping the chicken once to coat with the glaze.
Remove from pan and serve.
Modified from this recipe on active.com. My version is not spicy.
don't
want him to go? I honestly can't remember.
We've been married for almost 10 years and for the latter half of it we have drifted apart. So far apart. Kids, jobs, moves, life, different wants, different needs, etc. It all kept putting a wedge between us. I wondered where the man I married had gone. I wondered where the girl I used to be had gone. I wondered if we would ever be those people again.
I have never stopped loving him. Not once. But most of the time it felt like we were roommates. We didn't really fight.
Except for that one earlier this year where I honestly thought one of us was going to leave.
Last month we went out of town to look for a house for yet another move (yes, I have been bitter over moving as frequently as we have; I won't lie). We went without the kids and it was nice. We spent time together, I performed karaoke in the car for him (his favorite - snort), we had real conversations over meals and we talked. We cuddled. And it felt like we were a couple again. The day we came home I sat in the hotel room and literally sobbed and told him that I felt like I finally had my husband back. Words cannot express how much I had missed him/us.
He was different and has been since that trip. It is probably because he had finally been able to quit the horrible job he'd been at for almost 2 years. I can't imagine the weight it lifted off of his shoulders because I know how much it lifted off of mine. I am different since that trip. I feel like we're in a partnership again. I feel like a couple and parents and not just roommates.
We are actually a really good mesh as a couple. Yes we drive each other crazy sometimes but all marriages are like that
and if you tell me yours isn't I won't believe you
.
I'm glad we reconnected - not just for us but for the kids as well - but I have to admit I'm scared. I don't want a repeat of the last job. I don't want him to shut down and keep me out (and vice versa). I want him back. This time for good. And my heart is so heavy and so sad knowing that I can't be with him right now.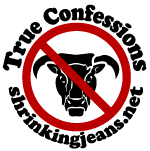 I realize confession is good for the soul and all but I'm not really feeling it. I don't participate like I used to on the weekly stuff at
Shrinking Jeans
and I actually miss it. I do spend a good bit of time over at
the 'hood
now that I'm a Social Sister and all but I feel like I'm not being a good role model by not participating. Am I just making myself feel guilty when I really shouldn't? Eh, probably. I'm good at that. So there's confession #1.
Confession #2. I haven't been listening to my body with the whole intuitive eating thing and I've been stress eating again. I know I have because I recognize it when I do it. It needs to stop. I know this. Why the heck is it so hard to stop though? Lots of head knowledge here but not a lot of following through.
And last, but certainly not least, confession #3 is I stopped walking/running/jogging. I was feeling really good and I stopped. Life, as
Christie O.
mentioned in her post "
3 Reasons You Should Never Wait to Work Out
" has derailed me. But life won't be getting easier any time soon. In fact, after Saturday when my husband moves to the new job, I will be doing the single mom thing until we move. I gotta make it work. Period. If for nothing but my sanity.
And there you have it...Roo's confessions for the week.
Capturing them is so much fun. Sometimes I just don't think I do it justice. In these pictures though I think I did pretty darn good.
Original recipe can be found here:
Taste of Home
Italian Spinach and Chicken Skillet
Servings: 4
Total time to table: 30 minutes (bonus!)
2 cups uncooked yolk-free whole wheat noodles
2 cups sliced fresh mushrooms
2 tsp olive oil
1 garlic clove, minced
1 can (14-1/2 oz) no-salt-added diced tomatoes, undrained
1 can (10-3/4 oz) reduced-fat reduced-sodium condensed cream of chicken soup, undiluted
3/4 cup spaghetti sauce
2 cups cubed cooked chicken breast
1 package (10 oz) frozen chopped spinach, thawed and squeezed dry
1/4 cup shredded Parmesan cheese
1-1/2 tsp Italian seasoning
1/2 cup shredded part-skim mozzarella cheese
Cook noodles according to package directions. Meanwhile, in a large skillet, saute mushrooms in oil until tender. Add garlic; cook 1 minute longer. Stir in the tomatoes, soup, spaghetti sauce, chicken, spinach, Parmesan cheese and Italian seasoning. Cook for 5-8 minutes or until heated through, stirring occasionally.
Drain noodles; toss with chicken mixture. Sprinkle with mozzarella cheese.
ENJOY!
Nutrition info: 1-1/2 cups = 389 cal, 12 g fat, 38 g carbs, 7 g fiber, 35 g protein.