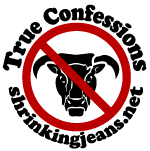 I realize confession is good for the soul and all but I'm not really feeling it. I don't participate like I used to on the weekly stuff at
Shrinking Jeans
and I actually miss it. I do spend a good bit of time over at
the 'hood
now that I'm a Social Sister and all but I feel like I'm not being a good role model by not participating. Am I just making myself feel guilty when I really shouldn't? Eh, probably. I'm good at that. So there's confession #1.
Confession #2. I haven't been listening to my body with the whole intuitive eating thing and I've been stress eating again. I know I have because I recognize it when I do it. It needs to stop. I know this. Why the heck is it so hard to stop though? Lots of head knowledge here but not a lot of following through.
And last, but certainly not least, confession #3 is I stopped walking/running/jogging. I was feeling really good and I stopped. Life, as
Christie O.
mentioned in her post "
3 Reasons You Should Never Wait to Work Out
" has derailed me. But life won't be getting easier any time soon. In fact, after Saturday when my husband moves to the new job, I will be doing the single mom thing until we move. I gotta make it work. Period. If for nothing but my sanity.
And there you have it...Roo's confessions for the week.