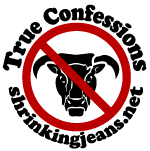 the bad
I have not eaten right. I have not exercised. I have not had enough water. I have not had enough sleep. I am tired, anxious and overwhelmed. My inner child has not been nice to me when she talks to me. Somebody needs to pop her. Maybe I should.
the good
While being seriously stressed out I did not take it out on my kids. I finally registered the 2yo for gymnastics and she starts next week. I also bit the bullet and signed myself up for the Disney 1/2.
(Those have been on my to-do list for a while.)
Now what's this about the Internet trying to tell me something?
First, I saw this over at
Roni's Weigh
:
Live the life you want to live. Be the person you want to remember. Make decisions. Make mistakes. If you fall, at least you tried.


Then this, at
Operation Beautiful
:
"Don't wait until everything is just right. It will never be perfect. There will always be challenges, obstacles and less than perfect conditions. So what. Get started now. With each step you take, you will grow stronger and stronger, more and more skilled, more and more self-confident and more and more successful."
(Mark Victor Hansen)
Both of these really spoke to me because I've been sitting here saying things like "you can't do this if you can't get on the treadmill" or "you can't do this with no one to watch the kids". You get the picture. The problem is I'm trying to do it they way I think it SHOULD be done instead of just getting it done. Even if I try it's better than doing nothing at all, right? Right.
As
Karena
so eloquently put it,
"And when my needs are met, I'm much better equipped to meet the needs of everyone that depends on me."