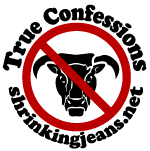 THE BAD:
I am still struggling with feelings of anxiety and being completely overwhelmed. I realize this has a lot to do with the fact that I've been benched since the beginning of May. Plans I made, things I had looked forward to had to be cancelled. I haven't been able to tackle as much of the unpacking at the new house as I wanted to either.
Said feelings of anxiety, frustration, etc. stress other relationships. I tend to pull away from my friends and my spouse and immerse myself in the kids. I realize this isn't ideal but it is what I do.
I have had too much ice cream this week. But hey, what can I say? All the cake was gone.
THE GOOD:
2nd appointment with the pain clinic is today. May get a 2nd shot. We'll see what the doctor says.
The cake is gone.
The playroom is 98% complete (need to touch up where the painters tape took some of the pain around the trim with it).
I've had more water this week than in the past several weeks. I'm proud of myself for that.
And there you have it...this week's confessions.