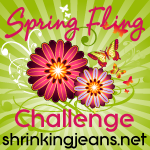 Although I didn't blog about it last week I did weigh-in and post in my sidebar over there on the left. Week 5 I gained 1.3.
This week I'm down 1.4.
I have tried to be more conscious of the amount of food I'm putting in my mouth and not eating randomly and when I'm not hungry (which I'm really good at - the eating randomly, that is).
I decided to join a gym.
I know.
Today was my first day there and because my biggest concern is child care (i.e. will my child stay
and
have fun?) I was more than a little nervous. Well combine that with the fact that I haven't set foot in a gym in a few years and I had just about talked myself out of going. But I went. And I'm glad I did. My little one thoroughly enjoyed herself, I got a few miles in on the treadmill and am ready to start working this into my daily routine. I have a 9:00 a.m. appointment with a personal trainer who has assured me he'll "whip me into shape" and I'm officially scared. Will someone hold me please?
My friend Lissa
takes a muscle work class lovingly called "Death by Barb". I'm totally thinking tomorrow morning's visit will be "Death by Derrick". IF I can move I'll let you know how it went.
This week's goals? Water, water, water. And try not to kill myself at the gym.