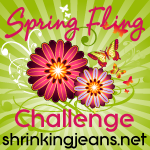 *happy dance*
Down 3 weeks in a row!
This week's loss? 0.1.
Yes, I realize it's only a tenth of a pound and really that's, well, NOTHING, but that's ok because I didn't do much this week in the way of activity. With the back problems I had to lay low so I was hoping for maintenance this past week.
I do have an update on my back woes and will share them when I have more than 3 minutes to type out a blog post. But I will spill that it IS good news.
How'd everyone else do? Head over to
Shrinking Jeans
to find out.