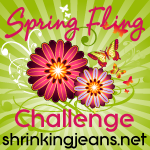 *happy dance*
Down 2 weeks in a row!
This week's loss? 0.7.
I needed to see that this morning. I was worried because I have not stayed on top of my 1/2 Marathon Training over the past week with my trip out of town and subsequent back problems. My back is so out of whack right now that I can't find a comfortable position
at all
. I head back to the chiropractor in the morning so I'm hoping he'll have me better soon. I need to get back on track with my walking/running so I don't get behind.
How'd everyone else do? Head over to
Shrinking Jeans
to find out.
GO TEAM C!