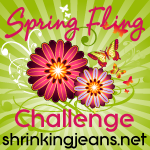 Today is Weigh-In #1 for the latest challenge at
Shrinking Jeans
. I am part of Team C -
Completely Committed Chicks
- and am thrilled to report a
loss of 2.3 pounds this week
! YAY! How, you ask? Well I'm contributing it to the insane amount of mileage I've started logging (insane for me, anyway) since starting training for the 1/2 Marathon in June. And water. Lots of water.
Curious as to how the other shrinkers are doing?
Go show 'em some love
this week!
Till next Wednesday...