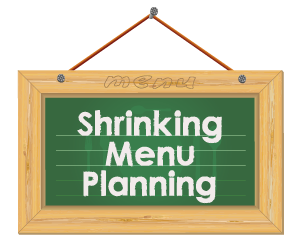 I have a love-hate relationship with menu planning. Okay, it's a mostly hate relationship, but it must be done. If it's not done we eat out, we eat crap and spend money that could better be used in other areas.
I love the idea of linking up our weekly plans and sharing them with our friends to keep us accountable and give us ideas for future meals. Because I, for one, need both the accountability and ideas!
Here's our meal plan for this week in no particular order. I try to decide the night before what we're going to have the next day. If I forget then I pull from something easy on the list (example - the Cheese Ravioli Bake, because it's quick to make from frozen). Side dishes are listed in parentheses.

Country French Chicken & Veggies (garden salad)
Cheese Ravioli Bake (tomato ranch salad)
Shepherd's Pie (broccoli steamed for me and with sour cream sauce for the rest of the peeps)
Balsamic Pork Chops (rice pilaf & cantaloupe)
Taco Burgers (warm ranch potato salad)
Pizza Loaf (garden salad)
Grilled Turkey Tenderloin (green beans & baked cauliflower)
I will say that one thing I really need to start doing is planning breakfast and lunch. We always just wing it with those meals (leftovers, salad, sandwich for lunch and breakfast is quick with lots of options). If you have any ideas to help me get into a groove with those meals I'd love to hear them!
Now go visit the link-up over at Shrinking Jeans and see what everyone else is eating this week!