Wow. I can't believe the
Shrinkvivor Challenge is over
! Of course, I disqualified myself last week by missing the check-in (gah!) but that doesn't mean I stop working at it, right? Right. So without further ado, here are my numbers:
Weight at last check-in: 199.0
Challenge Starting Weight: 202.1
Change This Week: -1.5
Change for Shrinkvivor Challenge: -3.6
Total Pounds Gone since 9/8/2010: 5.1
Ummm, do you see what I see?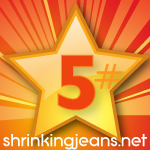 Yes, 5# button, baby! And a 3.6 loss for the challenge...not
nearly
as great as I had hoped but dealing with a sick/hospitalized kid, being sick myself and hurting my back again, I am very happy with the overall loss. I keep telling myself that slow and steady wins the race but geez sometimes it feels insanely slow.
Oh and have you voted for the Top Shrinkvivor? There are 7 and seriously I'm not sure how ANYONE is supposed to choose just one winner...the entries are all phenomenal.
Go vote
, m'kay?