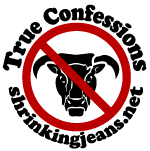 It's Tuesday and that means it's
confession time over at the Sisterhood
. Forgive me, Sisters, for I have...
Not had enough water this past week.
Have eaten more fast food than could even remotely be good for me.
Been ignoring that voice in the back of my head that is telling me I'm headed down the wrong path, I'm out of control and I need to refocus.
On a good note, I'm at 41 ounces of water for today and I tackled 1.3 miles outside without my iPod (still haven't found it) and while pushing my 2 year old in the ridiculously hot sun.