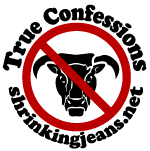 It's been a while since I've linked up on the weekly confessions post but here goes:
I'm tired.
I'm injured.
Since said injury I haven't been able to exercise at all (no walking, no running, nothing). Doctor and chiropractor have both diagnosed me with sacroiliac strain and a secondary diagnosis of sciatica. Not really what one wants or needs with only a few weeks before a half marathon, huh?
I'm depressed.
I'm overwhelmed.
And those 21 day goals? Meh. Not so much.
That being said, I am
THRILLED
to announce that I've reached my fundraising goal for the LLS 1/2 Marathon!!!!
And I'm having lunch with
Thea
tomorrow.
DOUBLE YAY!