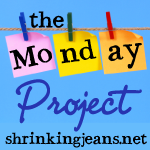 Ok, peeps, it's been several weeks since I participated in one of these. Since I'm trying to get back on track in all aspects of my life, I decided to tackle this week's Monday Project - Fill In The Blank.
I am active because
it truly makes me feel better, improves my mood, and I know that I am doing something good for my body and I am showing my children (by example) that being active is a good thing. No couch potatoes allowed.
That pretty much sums up why I've chosen to start running (although right now it's really a fast walk/slow run). It was reaffirmed for me the other morning when I was taking my son to school and I said, "I'm sorry I was crabby this morning." His reply? "That's ok, Mom. Maybe you should get on the treadmill when you get home."
Whaaaa????
Yes, my 5 year old knew that my getting on the treadmill would make his mom a happier person. We chatted about that a little more and it made me smile on the inside AND outside. How nice to hear that affirmation from my kiddo.